Visitor Parking at ITTC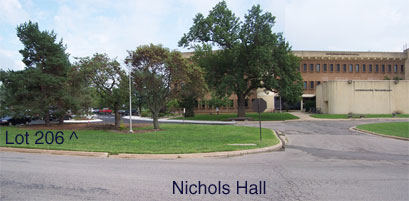 Visitor parking is available in Lot #206 at Nichols Hall, which is the large lot on the NE side of the building. All of Lot #206 (yellow permit) is available to visitors, except the far row to the south of the lot (red permit).
After parking, please go inside to Room 146, the office directly off of the lobby area, and obtain a temporary parking permit (hangtag) from support staff in that office or to Room 147 Nichols. You will hang this tag from the rearview mirror on your vehicle. Hangtags are available as a.m., p.m. or all day permits. Please specify which permit you will need for your visit at ITTC when picking it up from our support staff.
If requiring a permit for a period of one week or longer, you should contact the person(s) you are visiting at ITTC to make arrangements with Parking Services to purchase a temporary permit for you.